Facility, Industrial / Infrastructure, Rental & Environmental Services
Baird's Facility, Industrial / Infrastructure, Rental & Environmental Services ("FIRE") practice group was founded in 2007 and has been an active and growing sector for the firm. With companies' increased focus on core operations and efficient capital deployment, there exists a substantial opportunity for high-quality outsourced service providers to continue consolidating the competitive landscape, access growth capital through the capital markets and build market-leading offerings in large national or multinational sub-verticals. Private equity and corporates alike are focused on these secular trends and opportunities.
Baird's Facility, Industrial / Infrastructure, Rental & Environmental Services practice has extensive experience advising best-in-class companies across the facility services spectrum including:
Businesses focused on soft and hard services;
Those that provide single-, multiple-trade or fully integrated FM offerings with sophisticated technology platforms; and
Companies who service commercial, industrial, multifamily, residential, retail and other end markets.
Our Industrial / Infrastructure Services practice advises companies serving all areas of the infrastructure market. Our expertise covers a broad universe of services including engineering, construction, design/build, environmental, maintenance and energy services.
Baird's Rental Services practice works with companies whose service offering is asset intensive. We cover a broad universe of business models from equipment rental to route-based service companies to plant-based offerings. A hallmark of these clients is the combination of high profit margins with high capital expenditure needs.
Deep relationships with relevant publicly-traded companies, private local/regional service providers and private equity-backed businesses provide Baird with current and relevant knowledge on the markets and an ability to provide the highest level of strategic insights to its clients.
Let us help you write your growth story.
Peter Kies
Managing Director
+1-414-765-7262
pkies@rwbaird.com
John Lanza
Managing Director
+1-414-298-7669
jlanza@rwbaird.com
Brad Page
Managing Director
+1-312-609-5491
bpage@rwbaird.com
Chris Carlevato
Director
+1-414-298-5019
ccarlevato@rwbaird.com
Peter Robbins
Director
+1-414-298-5018
probbins@rwbaird.com
Rob Kaderavek
Director
+1-414-298-5260
rkaderavek@rwbaird.com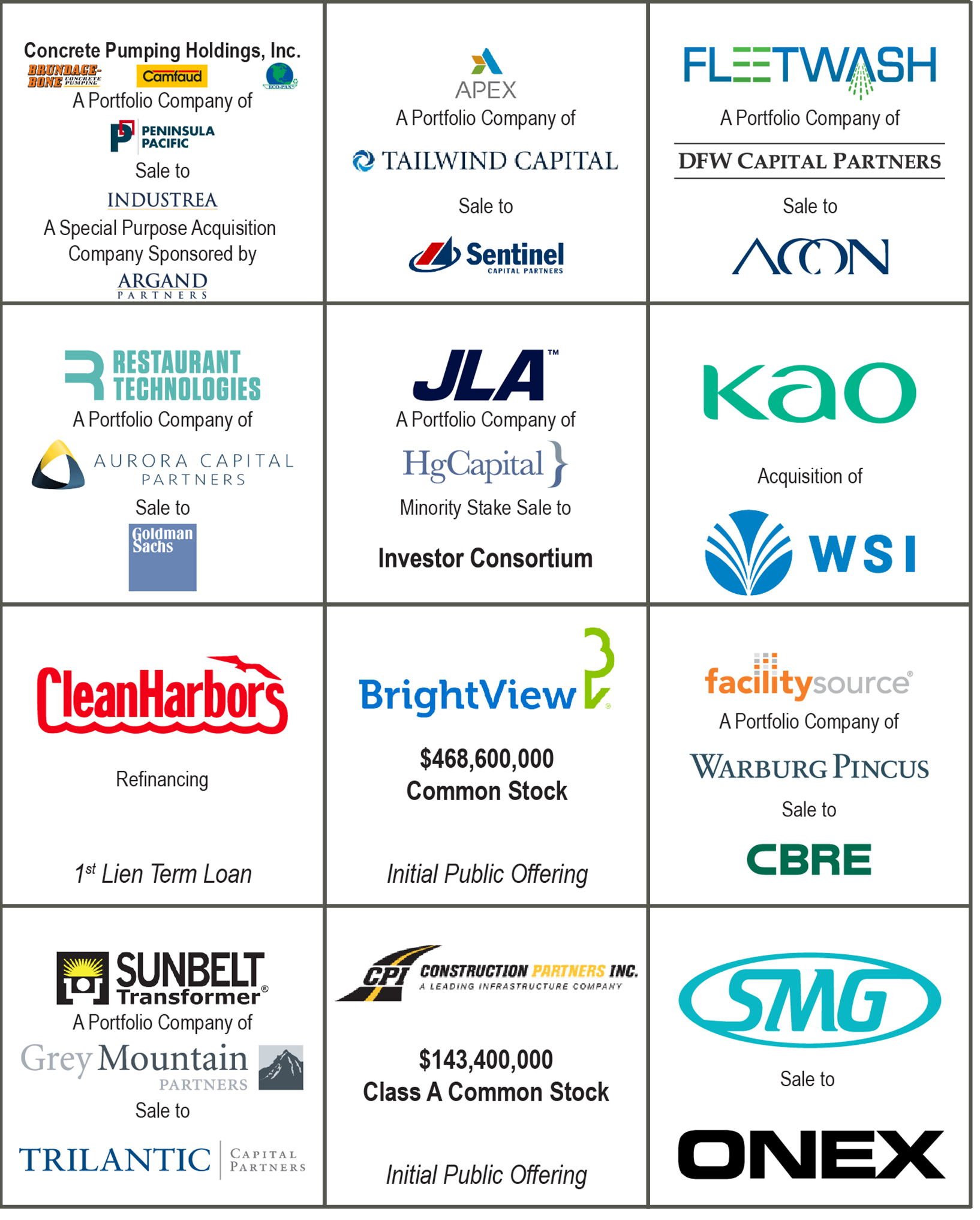 The above transactions were selected for their relevance to the Technology & Services sector and do not represent all Baird transactions. View our website at rwbaird.com/investment-banking for a full list of transactions.