Powering Through a Pandemic: Virtual Instruction

The global pandemic has left a lasting impact on the Knowledge Solutions space. Across the "Pre-K to Gray" continuum -- from early childhood education to workforce training -- a diverse array education software and online business models are increasingly facilitating and sustaining the instruction, collaboration, and knowledge assurance of learners at all phases of the education lifecycle in a post-COVID world. This accelerated reliance on technology to facilitate learning will favor several specific types of digital platforms.
Who Benefits From This Accelerated Modality and Business Model Shift in Education?
1x1 Devices & Remote Device Monitoring – Solutions that help bridge the "digital divide", ensuring students of all economic backgrounds can continue learning remotely will benefit. Given state and federal requirements for equity of access, companies providing remote accessibility for students through additional devices for home use, Wi-Fi hotspots, and software that protects the privacy of students' information and blocks inappropriate material.

Remote Engagement - The isolation resulting from self-quarantine and social distancing creates a need for peer-to-peer interaction, socialization, collaboration and group communication. Coming out of this crisis, expect certain players to focus on feature enhancement and new product development to better address this need. While not curricula platforms, these tools will be increasingly important facilitators of learning in both schools and workplaces.
Communication/Alert Tools – The dynamic nature of the virus has highlighted the need for improved home-school connectivity and the critical need for real-time, rapid communication of administrative and academic information to parents and students (e.g., changes to school format, curriculum, staff and student health status, attendance policies, etc.). Business models that best facilitate this connection will be of great interest to education institutions as well as investors.
Enterprise Health & Safety Training Providers - Recent events shine a spotlight on employee health and workplace safety, increasing the demand for certified professionals (e.g., OSHA, NEBOSH) and prompting organizations to beef up budgets for internal programs and usage of outside training providers.
Cybersecurity Training – With largely remote workforces accessing corporate networks on unsecured home Wi-Fi from a variety of personal devices, the risk to corporations' information has never been greater, Gartner estimates that the security awareness training market is currently valued at $660 million, with an expected 42% CAGR through at least 2023.
Enrollment & Donor Management Tools – Colleges and universities have been particularly impacted. Of the top 30 largest universities, 50% started primarily online, 27% hybrid, and only 23% in-person. Compounding the revenue losses from on campus housing and dining, applications from international students are down dramatically and high levels of domestic students elected to defer admission or take a "gap year". These significant losses in their revenue streams in a COVID environment places even more importance on recruiting new students and on driving alumni donations. Technologies that help administrators optimize these functions will be in high demand.
Below are a few illustrative businesses poised to benefit from these trends: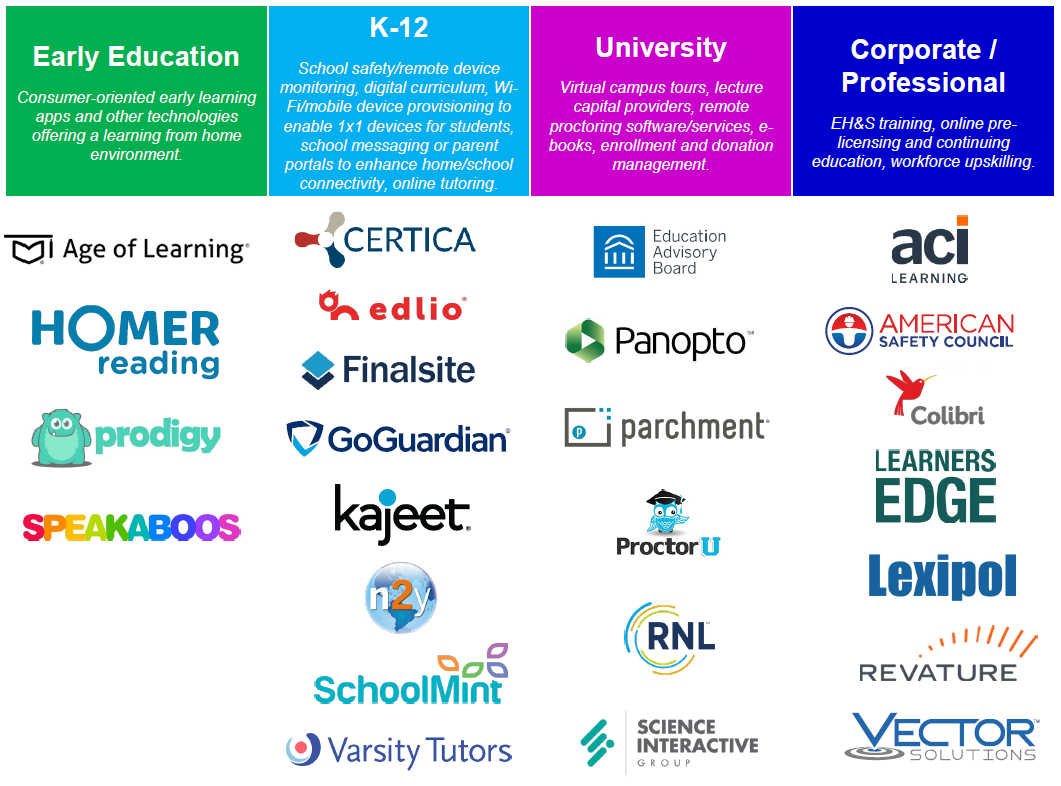 Want more detail about this trend and its impact on your business?
Learn more about our Knowledge Solutions practice and complete the following form to receive our in-depth Knowledge Solutions report.