Powering Through a Pandemic: E-Commerce

In a COVID-19 world, eCommerce is no longer optional for business – it's a necessity. The global pandemic has significantly accelerated the decade-long shift to eCommerce as recent precautions around physical interactions drive dramatic changes in consumer behavior. We believe many of these behavior changes will be lasting, leading to a new normal where the offline and online worlds are more intertwined than ever before.
Who Benefits From This Accelerated eCommerce Trend?

Amazon Marketplace Service Providers – Amazon remains dominant in eCommerce. Pandemic closures have required many brands to double down on Amazon as they can no longer rely on their physical stores for sales. A growing industry of technology and services providers is forming around the Amazon ecosystem as brands need help navigating the challenges of selling on the world's leading eCommerce platform.
Supply Chain and Fulfillment – In order to keep pace with Amazon and higher consumer expectations, many brands and retailers now subsidize next- and two-day deliver options. Companies that deliver services that help brands automate processes, reduce costs and drive shorter order-to-delivery times will be in high demand. We anticipate continued investment in supply chain management, transportation management system (TMS) and shipping/logistics businesses.
eCommerce Enabling Technology – The right technology is vital for businesses carving out an eCommerce presence. We anticipate continued, large investments in eCommerce platforms and enablement tools. Omnichannel merchants will look to invest in technologies that enable them to leverage their physical stores within their eCommerce presence – for example, tools that support BOPIS (buy online, pick up in store), home delivery and the like.
Commerce-Driving Content Providers – Content is central to many consumers' buying decisions. Retailers and brands must deliver accurate, consistent, high-quality and differentiated content and product information at each touchpoint with consumers. Providers that specialize in product information and experience, ratings and reviews, and content or digital asset management will see heightened demand.
Businesses Models Facilitating Data-Driven Customer Engagement – Retailers and brands must collect, listen to, analyze and act on customer data to drive engagement and improve marketing performance. What's more, return on marketing spend will be more important than ever coming out of the downturn. Technologies that enhance marketing personalization, consumers' digital experience, performance marketing and multichannel marketing automation will command investment dollars.
Mobile Technologies – The smartphone fundamentally altered consumer behavior. In 2019, it eclipsed time spent on all other media types – signaling a paradigm shift in the world of eCommerce. Mobile accounted for 58.9% of global eCommerce spend in 2017, and its share is projected to climb to 72.9% by 2021. Its increasing dominance creates unique opportunities for mobile advertising players, a market that accounts for 2/3 of digital ad spend and is growing at 30%+. Additionally, companies with solutions that drive cross-channel marketing will be in demand given texting's potential to emerge as the default B2C communication channel and the emergence of social media as a more mainstream consumer shopping channel.
Continued, large investments in eCommerce and customer experience technologies, as well as digital marketing, will be necessary for companies to remain competitive. Businesses poised to benefit from this trend include:
Want more detail around this eCommerce trend?
Complete the following form to receive a copy of our in-depth report.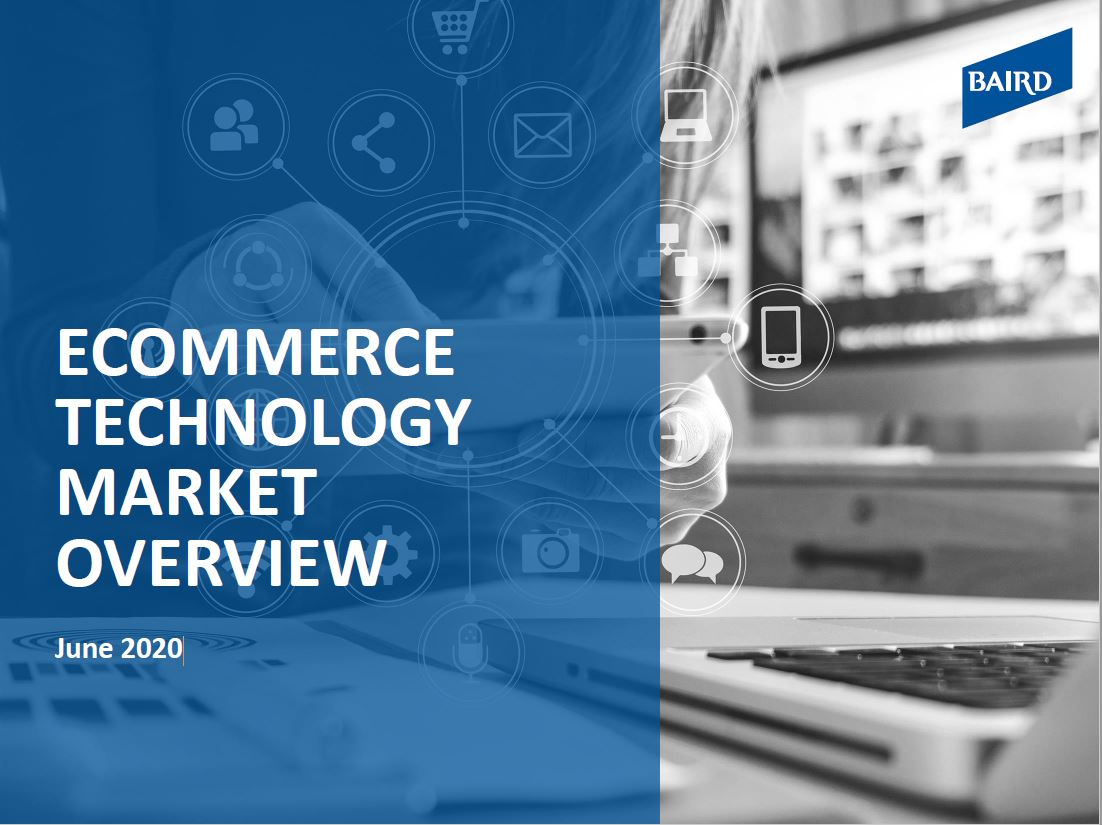 1"The Rapid Evolution of Consumer Demands in eCommerce," DotCom Distribution, 2018, and and eMarketer, "Retail Mcommerce Sales Worldwide, 2016-2021", 2018.