Our In-Depth Look into Market Technology & Services
Baird's Marketing Technology & Services Sector Overview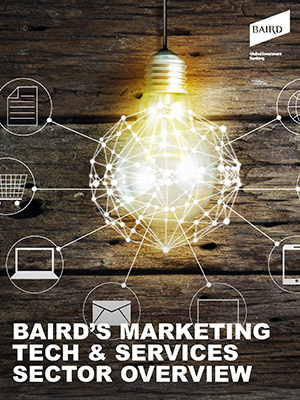 The first edition of this report from Baird's Global Marketing Technology & Services team lays out our broader views on the industry and examines how both technology and services are being used to identify, attract, engage, convert and retain customers.
The landscape for marketing technology and services is significantly impacted by the end customer and their process for making purchasing decisions. Today's path to purchase, whether B2C or B2B, has never been more fragmented – it's decidedly nonlinear and varies widely by end market, geography and unique customer. We examine trends that significantly impact the path to purchase and therefore the types of technology and services required to market to and win over customers.
We have segmented the market into six core segments, including advertising, digital experience, customer journey management, social and relationships, customer experience, and data and insights. We further segmented the industry into 31 sub-segments and their key players, all of which are covered in the report. We also examine the key trends driving the overall market and the individual segments, along with transaction activity in the category.
Learn more about Baird's Global Technology & Services sector expertise.